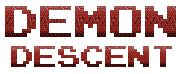 Demon Descent
Controls
Left or Right: Fall left or right
Up: Slow your fall
Down: Fall Faster
Story
The rebellion in heaven has failed, and now all the rebel angels have been expelled! First one to hell gets to be Satan, so try and fall the fastest!
Trivia
Demon Descent is a remake of Taito's late 70s Speed Race arcade games, with a devilish skin.
Changelog:
v 1.1 tweaked difficulty by adjusting player positioning and preventing stunlock
Comments
Log in with itch.io to leave a comment.
Nice game! it would be awesome if there were some powerups you could pick up too
This has potential, the version so far is pretty good, looking forward to more content and updates.